2024 BE ELITE FLAG FOOTBALL | – CLAYTON VALLEY CHARTER
Be Elite Flag Football is now entering its 3rd season at Clayton Valley Charter! We opened up our first season in 2022, with 189 registered participants and grew to 264 registered participants in our second year! We are super excited to be back with Coach Nick Tisa and the Clayton Valley Charter Football Program for what we feel will be the best season yet and the most participants to date.
-Registration is now open for all participants-
Site Director: Nick Tisa
Coach Tisa has been the site director for Be Elite Flag Football for the past two years and we are super happy that he is a part of the Be Elite Flag Football family. He has been around the game of football since he was 8 yrs. old, where he played for the San Ramon Bears and California High School. He is currently entering his 18th year teaching and coaching football. He first went back to coach at his alma mater for 4 years and then was the Head Coach at Dougherty Valley High School. He is currently teaching History at Clayton Valley Charter and is the Defensive Back Coach.  Nick was on staff that helped lead them to a 2019 State Championship. Nick is married, with two daughters and lives in Concord. He truly believes that the lessons of football have taught and helped him to succeed in all areas of life and wants his players to learn these same lessons through the great game of football. He is proud to be part of the Ugly Eagle Community and looks forward to a great flag football season
About Be Elite Flag Football
The Be Elite Flag Football program is offered to all participants from kindergartenthrough 8th grade. Be Elite was started and created by high school coaches and players that were wanting to find a way to create unique programs that would incorporate student-athletes as mentor coaches and to show youth athletes a positive, energetic, fundamental, and competitive experience.
2024 Be Elite Flag Football Practice and Game Times
Kindergarten/1STGrade – 9:00am Practice/10am Game
2NDGrade division – 10am Practice/11am Game
3RDGrade division – 11am Practice/12pm Game
4THGrade division – 12pm Practice/1pm Game
5THGrade division – 1pm Practice/2pm Game
6THGrade Division – 2pm Practice/3pm Game
7TH/8THGrade Division – 2pm Practice/3pm Game 
❖ Practice and Game Times are not Final and are subject to change 
2024 Be Elite Flag Football League Schedule
Week 1 – 1/21 (Sunday)
➢ Practice/Scrimmage
Week 2 – 1/28 (Sunday)
➢ Practice/Game #1
Week 3 – 2/4 (Sunday)
➢ Practice/Game #2
Week 4 – 2/10 (Saturday) *Super Bowl Weekend
➢ Practice/Game #3
Week 5 – 2/18 (Sunday)
➢ Practice/Game #4
Week 6 – 2/25 (Sunday)
➢Practice/Game #5
Week 7 – 3/3 (Sunday)
➢Practice/Game #6
Week 8 – 3/10 (Sunday)
➢ Practice/Game #7
Week 9 – 3/17 (Sunday)
➢ Practice/Game #8 (Playoffs)
Week 10 – 3/24 (Sunday)
➢ Practice/Game #9 (Championship Weekend)
❖ All teams will play in all 10 weeks regardless of their playoff seeding and/or outcome.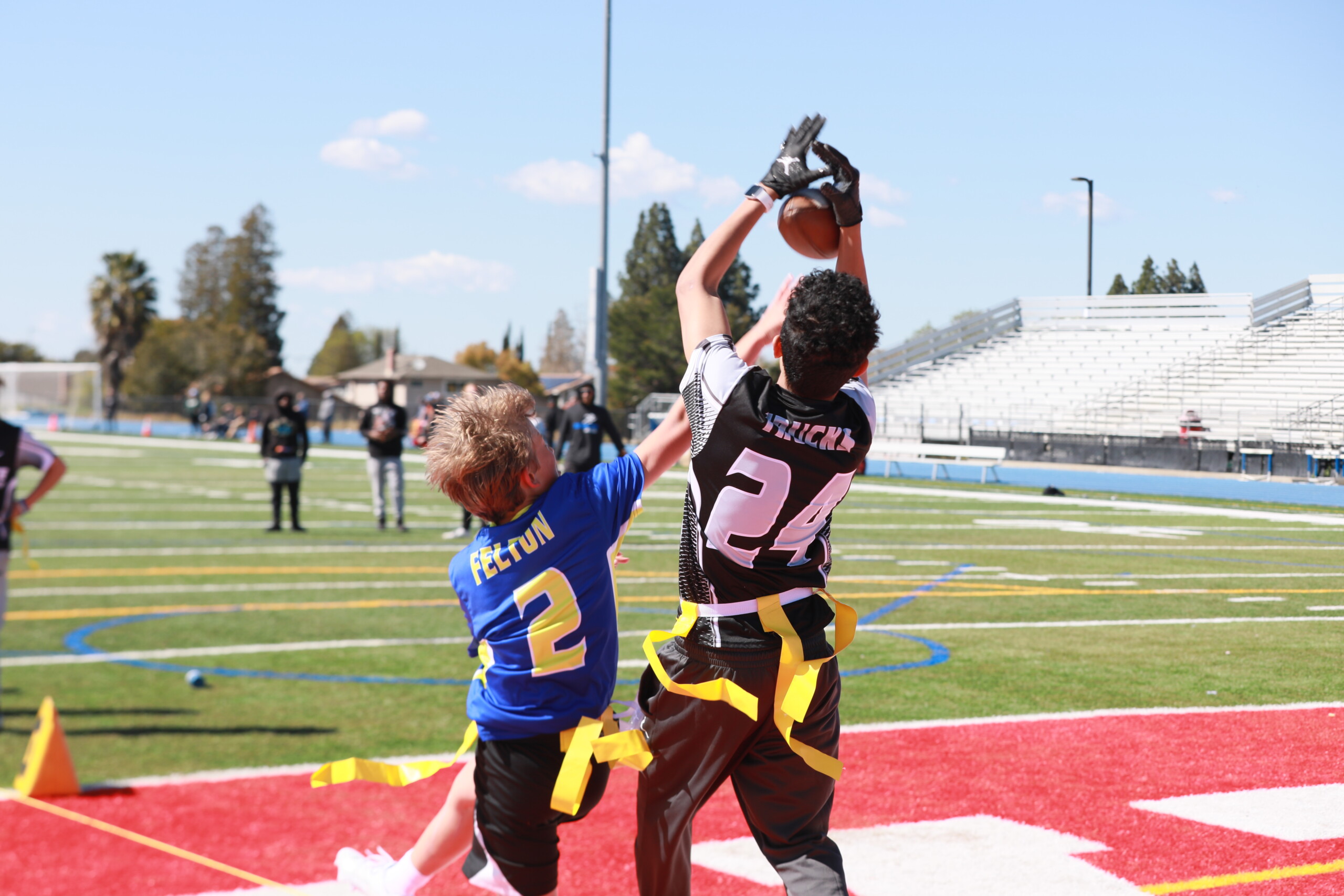 How Our League Works
Season: The season will run for 10 straight weekends, starting Sunday, January 21st and finishing up on Sunday, March 24th. All practices and games will take place at Clayton Valley Charter High School in the Football Stadium and surrounding facilities.
Practice and Game Schedule: All practices and games will be held on the SAME DAY – Each day will start with a one-hour practice followed by a game. Be Elite Flag Football is a parent friendly one stop shop schedule (no other practices will be scheduled during the week.
Divisions based on Grade Level: Each division will be separated by participants grade level. Each player must play in their designated grade level and will not be allowed to play down to any grade level.
Team Roster Size: 10 players maximum per team, limited exceptions on a case-by-case basis.
Registration Fees: $245/player includes an official custom game jersey and
shorts. Use of facility and other equipment offerings.
Game Play: Games are played in a 5 on 5 flag format within a contact-free
environment. Players will switch sides of the ball so as to get experience on
Offense and Defense. Four games will be played simultaneously on a
regulation football field with each game field length of 40 yards.
Playing Time: Playing time is a very important part in the growth of a youth athlete. There will be equal playing time for all players through constant rotations within each team's roster.
Equipment: Players must wear mouth guards for ALL games to participate.
Players must wear shorts/pants with NO pockets. Football cleats or athletic shoes are recommended.
Coaching and Volunteers: All teams are assigned a Student-Athlete/Mentor as the
Head Coach/Mentor to their respective team. Parent volunteers can ASSIST our
student-athletes and HELP them in their role as the Head Coach.
Additional Program Information:
Participants need no prior experience to participate.
Be Elite Flag Football is a co-ed league and open to all participants in K-8th
All equipment will be provided.
Custom Jerseys and shorts are included in the league registration fees.
We are community-based, teams can be comprised of individual participants or can be formalized by schoolmates, buddy lists, and friends where possible.